As your local water utility provider, we strive to keep you continually updated on all matters related to your water service. If you do not find the information you need, please contact our office and we will gladly assist you!
THE MEETING WE TAKE PLACE WEDNESDAY APRIL 19TH AT 1:30PM.
Topic: Southern Iowa Rural Water Association Annual Meeting

Please click the link below to join the webinar:

DRINKING WATER ADVISORY - LIFTED FRIDAY 4/14

The Southern Iowa Rural Water Association (SIRWA) Water Supply is recommending to boil the water before using for drinking or to use an alternative...
As of 8am Wednesday March 1st the advisory has been lifted. Please call the office at 641-782-5744 if you have any further questions!
THIS ONLY APPLIES IF YOU RECEIVED A ROBO CALL OR ARE INCLUDED IN THE AREA CIRCLED ON THE MAP.
DRINKING WATER ADVISORY
The Southern Iowa Rural Water Association (SIRWA) Water Supply is...
PLEASE BE AWARE THAT CLARKE COUNTY IS IN A MODERATE TO SEVERE DROUGHT
SIRWA CUSTOMERS SUPPLIED BY THE OSCEOLA WATER WORKS ARE BEING ASKED TO IMPLEMENT THE FOLLOWING VOLUNTARY WATER CONSERVATION...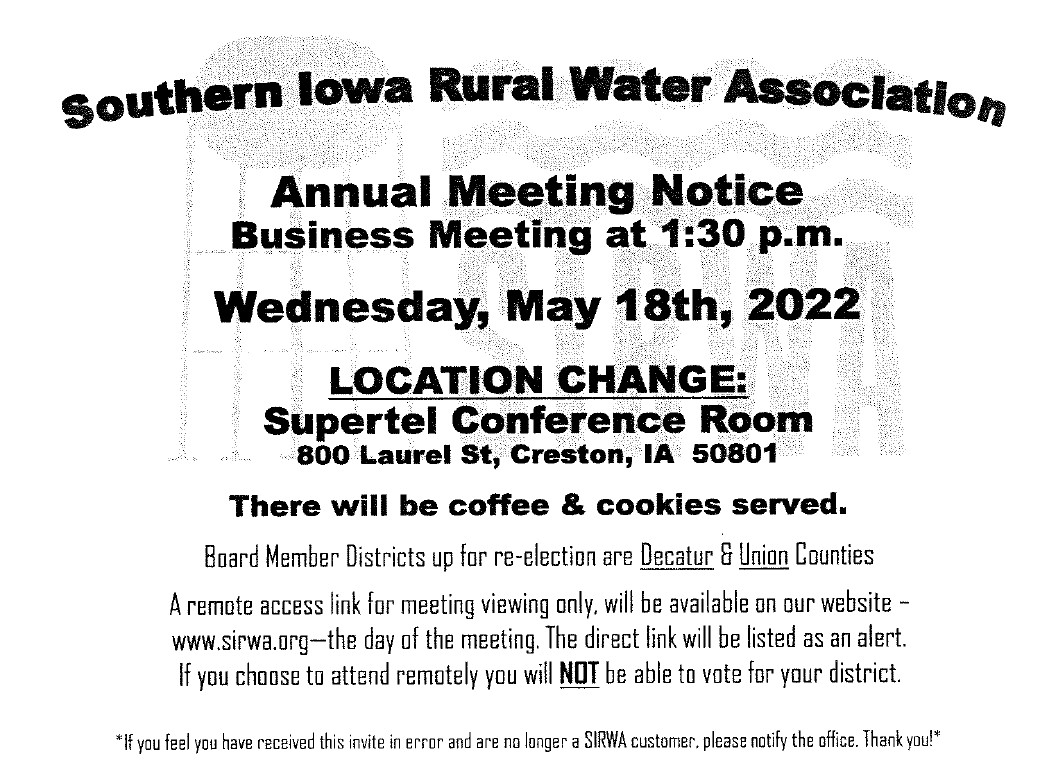 NOTICE OF MEETING OF THE BOARD OF DIRECTORS OF THE SOUTHERN IOWA RURAL WATER ASSOCIATION, STATE OF IOWA, ON THE MATTER OF THE PROPOSED AUTHORIZATION OF A LOAN AGREEMENT AND THE ISSUANCE OF NOT TO...
ANTI-DEGRADATION ALTERNATIVES ANALYSIS BY SOUTHERN IOWA RURAL WATER ASSOCIATION FOR WATER TREATMENT RESIDUALS DISCHARGE TO TWELVE-MILE CREEK.
PUBLIC NOTICE DATE: 9/2/21
Notice is hereby given...
John Van Nostrand with the Creston News Advertiser did a wonderful highlighting our annual meeting & upcoming treatment plant project. We have provided the link for our customers who may be...
RESOLUTION TO AMEND THE BYLAWS OF
SOUTHERN IOWA RURAL WATER ASSOCIATION,
STATE OF IOWA
WHEREAS, the Bylaws of Southern Iowa Rural Water Association (hereinafter "District")...
The United States Environmental Protection Agency (US EPA), requires public water supply systems to provide a yearly Consumer Confidence Report (CCR) to their customers. These reports...
Tuesday, March 17, 2020 Update
Water supply is critically important to the public health of our community at all times, and Southern Iowa Rural Water association (SIRWA) recognizes our role in...
Center for Disease Control
https://www.cdc.gov/coronavirus/2019-ncov/php/water.html
Water Transmission and COVID-19
Drinking Water, Recreational Water and Wastewater: What You Need to Know
Can...
Effective November 25, 2019 our nonpayment policy will be changing. As of 8am the morning of account shut-offs a $100 nonpayment fee will automatically be applied if we have not received...
We are excited to announce that our new website has launched and includes all the information our community needs related to their water service. Check back often, as we will be adding information...